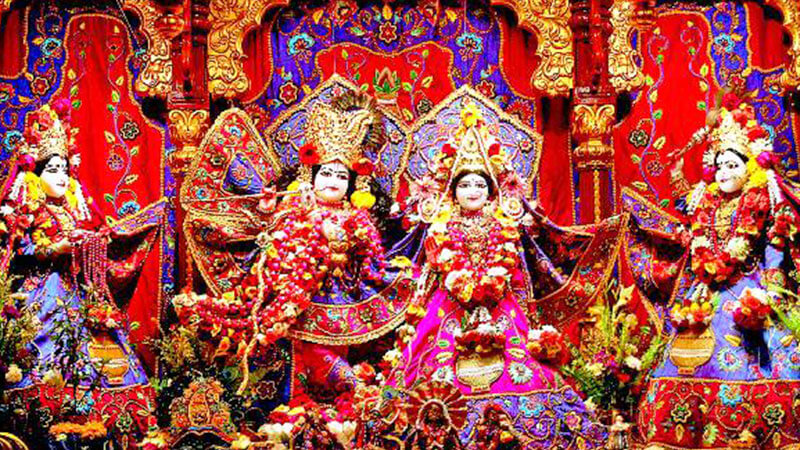 9 most unique Janmashtami celebrations in India
9 most unique Janmashtami celebrations in India – Janmashtami, one of the most fun and playful Indian festivals is also called by other names like Krishnashtami, Gokulashtami, Ashtami Rohini, and even Sri Krishna Jayanti. As it is quite clear by the name, the festival is all about Lord Krishna and his birth. It was on this day when he took birth and it came to be known as Janmashtami. People celebrate this festival as his birthday only.
Order Now – Order Janmashtami Cakes Online From Chocolaty
But, as India is quite colourful and extremely ethnically involved in traditions, there are lots of things celebrated on this day. First, of course, it's the birth anniversary of Lord Krishna for which prayers, fasting, and birthday celebrations are involved. Second, people also celebrate dahi-handi on this festival where people (Gopalas) break the matkas filled with dahi as a tradition because Lord   Krishna was playful in his life and he did these things out of quirk. Hence, these are still continued as tradition and people follow it.
Needless to say, Janmashtami is a very vibrant, unique, happy, and colourful festival that involves lots of celebrations. But, even a twisted thing attached to this is that this festival is celebrated in different ways in different parts of India. Let us see the 9 most unique Janmashtami celebrations in India right here.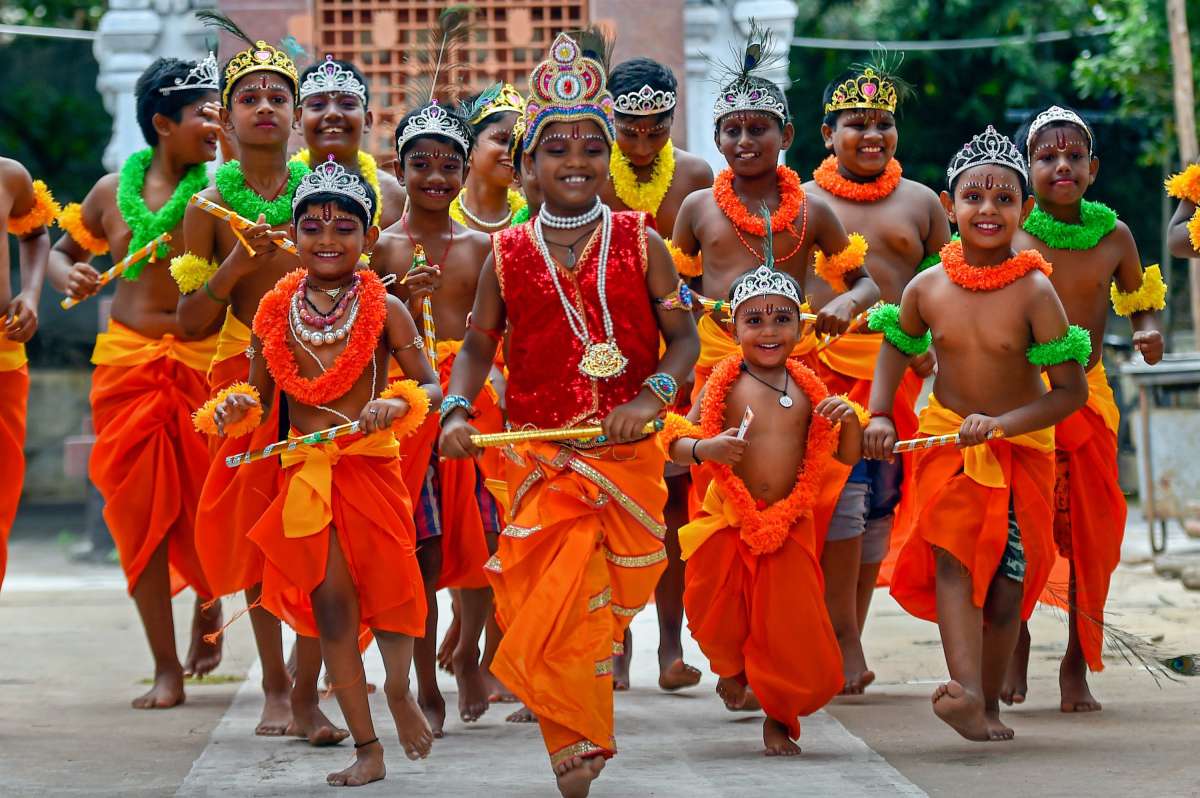 9 most unique Janmashtami celebrations in India
The most ethnic ones in Mathura and Vrindavan, UP
Mathura and Vrindavan are the two places that revolve around the birth and life of Lord Krishna. He was born here and spent most of his life in these places and hence it is obvious that no other place celebrates this festival in a grander way.
Mathura is Lord Krishna's janmabhoomi where the celebrations start almost a week early. All the temples in these cities including those of Gokul and Barsana are adorned with flowers and all possible decorations. The idols are decorated as well. The streets, the houses, the temples, and everything just looks beyond amazing. Vibrant plays, Krishna Leela, Gopi dances, processions, dahi-handi, Balagopal room plays, etc. are played. People from all over the world come to experience the Janmashtami of these places.
The lit and religious one in Dwarka, Gujarat
Dwarka is also a very special place in the life of Lord Krishna and hence the celebrations are grander in this city as well. Dwarka is considered as his own kingdom and hence the lavishness of this festival is purely experienced here. It is believed that Lord Krishna spent around 5000 years of his life in this place. As per the mythology, it is also believed that this entire city submerged into the Arabian Sea when Lord Krishna left for the heavenly abode. On this day, the entire city is lit up with lights, candles, diyas, bells, flowers, and more. People visit the famous Dwarka temple on this day where major puja and Aarti are carried out. It is totally a well-lit but a blissful time to be here.
The Soul Awakening one in Puri, Odisha
Puri is a home town of one of the most important Lord Krishna's temples which is called Lord Jagannath temple. The presence of this temple in Puri makes the city a part of the holiest chaar dhaam yatra. Hence, it is quite obvious that the Janmashtami celebrations in this city are also going to be amazing. After the Rath Yatra, Janmashtami is the most important festival in the city.
Another mythological story says that Lord Krishna's heart was tied to a log and was immersed in the ocean and it was in Jagannath temple in this city where his heart was found. The celebrations are higher in this city and a special prasad called Jeuda Bhog is prepared with a belief that it would cure the labour pain caused while giving birth to Lord Krishna. Inside the temple, at 12 am, birthday celebrations are done, Bal Gopal is kept inside the cradle and is played with as a child, and prayers, aarti, etc. are also performed.
The Glam Dahi Handi in Mumbai, Maharashtra
Janmashtami in Mumbai is quite different from other parts of the country. Of course, the common puja, aarti, and processions are done inside the temple. But, dahi-handi is the major attraction in the city during this festival. Not only in Mumbai, but the whole of Maharashtra celebrates this dahi-handi festival in an extremely lavish way.
For the. dahi-handi, huge pandals are made in various placed across the city, dahi-handi contests are held with prize money, and Gopala groups make a human pyramid to break the matka. This also originates as a ritual from the life of Lord Krishna where he would break matkas filled with butter with his friends and keep stealing and eating butter in a joyful way.
The fun one in Goa
You might not be thinking about this city celebrating Janmashtami that lavishly, but the locals do. They also have a dahi-handi fest going on throughout the city. It is so because Goa is also home to a lot of Yadava community people, the exact community to which Lord Krishna belonged.
There is a unique temple in Goa that is dedicated to Devaki and Lord Krishna and they are worshipped together. It is the only temple in India dedicated to the Devaki Krishna cult. This temple is where the major Janmashtami functions are carried out. There is an idol inside this temple where Devaki ji is in a standing position and Lord Krishna is in between her legs.
The North East culturally diversified one in Manipur
In case you thought the North East side of India was not high on this festival, you are quite wrong. One of the best places in India where Janmashtami is celebrated with zeal and excitement is Manipur. People go on fasts for a day, visit temples where Krishna Puja is constantly done, processions are also carried out in the state joined by the locals, and enjoy Raas leela and even folk dance performances. Mahabali temple and Sri Govindji temple are the two temples where Janmashtami is celebrated on a grander level.
The Royal one in Jaipur
The entire state of Rajasthan is mostly occupied by Marwaris, mostly.  Marwaris are one of those communities in India who worship Lord Krishna wholeheartedly and hence Jaipur's celebrations have to be on this list. The grandest puja, Aarti, and other celebrations are carried out in the two famous Krishna temples of the city which are Krishna Balaram temple and Govind Devji temple.
The Krishna Balaram temple over here is an exact replica of the Krishna Balaram temple in Vrindavan. The Govind Devji temple is inside the city palace and the main idol of the temple is kept by Raja Sawai Jai Singh II that he brought from Vrindavan and it is believed that this idol was made by Bajranabh, who was Lord Krishna's great-grandson. These two temples are really crowded during this time of the year.
The Fair and Fun one in Udupi, Karnataka
The Southern part of our country is extremely beautiful and boasts of its authentic cultures which make India extremely diversified in traditions. This part of the country is also famous for celebrating Janmashtami in a unique and heartful way.
In Udupi, there is a grand fair organised on Janmashtami in the Sri Krishna Matha temple. The idol of Lord Krishna inside this temple is believed to have been founded by Saint Madhavcharya in the 13th century on a ship. It was later placed here in the west direction. On this festival, the temple organises fairs, processions, ram leela acts, cultural performances, and lots of fun things. Their processions are also very lavish where Gopuras are erected under the chariot. There are matkas filled with curd hung on the Gopuras that need to be broken by the sticks during the ongoing processions.
The completely traditional one in Jamshedpur, Jharkhand
Jamshedpur is one of those cities in India where most of the Indian festivals are celebrated in a grand way. Here, dahi-handi is also celebrated at different spots with extreme zeal. Rath Yatra is also celebrated here in a grand way that is joined by thousands of devotees.
On the day of Janmashtami, every Lord Krishna temple is decorated and adorned with flowers and other embellishments. People fast on this day and carry out puja in their homes as well. Lots of women come together in groups to organise Krishna leela or Bhagwad Geeta in different places. One full week of the Bhagwad Geeta function is organised in the most important Krishna Ji temple of the city which is conducted by some guru. Cradles are adorned with bas gopala and lots of fun things are carried out inside the temple on this day.
Conclusion
Not only these places but most of the cities and states in the country celebrate the gorgeous festival of Janmashtami. It is a national festival that is not locked by the states or cities. It is a traditional festival involving love and devotion for Lord Krishna so people from all religions celebrate this festival in their ways.
The beauty of India is that this festival and almost all festivals are celebrated in different ways in different parts of the country and each one has an experience to unfold. This is the reason we curated this list of the most unique Janmashtami celebrations in India. If you want to explore how this festival is celebrated in different parts of the country, make sure to travel and experience it on your own. Till then, read our blog and feel the fun, devotion, and prayers through your screen. Happy Janmashtami to you all.
9 most unique Janmashtami celebrations in India – Janmashtami, one of the most fun and playful Indian festivals is also called by other names like Krishnashtami, Gokulashtami, Ashtami Rohini, and even Sri Krishna Jayanti. As it is quite clear by the name, the festival is all about Lord Krishna and his birth. It was on this…